Bishop Grosseteste University in Lincoln has made a further four new appointments as it continues to grow its academic base.
Professor David Rae, Dr Jan Pascal, Dr Frederick Attenborough and Dr Waseem Alladin have all joined BGU as part of the institution's five-year strategic growth plan.
Professor Rae was Professor of Enterprise and Director for Enterprise and
Innovation at the Lincoln Business School, University of Lincoln, for six years. He will be returning in October 2015 from Cape Breton University in Nova Scotia, Canada, where he was Dean of the Shannon School of Business, to become Executive Dean for Research and Knowledge Exchange at BGU.
Professor Rae worked in publishing, government and as a management and training consultant before joining Nottingham Business School at Nottingham Trent University in 1996, where he co-founded The Hive, a student business incubator, and gained his PhD.
At the University of Derby he founded and led the Centre for Entrepreneurial Management and developed the Doctor of Business Administration (DBA) for practice-based professional researchers.
Dr Jan Pascal is the Academic Co-ordinator for the new suite of health and social
care courses at Bishop Grosseteste University. Dr Pascal has many years' experience as a researcher and lecturer in the field of health and social care, as well as being a qualified teacher and social worker. She has also published book chapters and articles, mainly in the areas of cancer care and professional practice. She has recently returned to the UK after several decades living and working in Australia.
The new Academic Co-ordinator for BGU's new single honours degree in Sociology is Dr Frederick Attenborough, who was nominated at Loughborough University, his previous institution, as Lecturer of the Year in 2013 and for an Innovative Teaching Award in 2014.
Dr Attenborough's major research interests are in language and discourse. Across nearly 30 publications he has studied how issues of incidents like sexism, gender, sex, pornography, sexual violence, feminism and rape are represented within texts like newspapers, novels, blogs, vlogs, videos and websites.
His approach to the study of language and discourse is set out in a student handbook, Discursive Psychology and the Media, which is set for publication with Edinburgh University Press for 2016. Dr Attenborough is also on the editorial board of the journal Gender and Language and has recently edited a special issue for the journal entitled Gender, Language and the Media.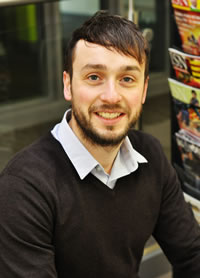 Dr Waseem Alladin is Bishop Grosseteste University's new Academic Co-ordinator for Counselling and will lead BGU's new Psychology and Counselling degree programme. Dr Alladin established the first UK-based international peer reviewed journal in counselling psychology and is the Founding Editor-in-Chief of Counselling Psychology Quarterly: An International Journal of Theory, Research and Practice.
He holds an honorary lectureship in the School of Biological Sciences and Psychology at the University of Leicester and has held similar positions at the University of Hull and the University of Wales (Bangor). A consultant clinical psychologist and specialist in autism spectrum disorders, Dr Alladin has worked in the NHS and was Head of Psychology for Autism Care UK.
He is an Associate Fellow of the British Psychological Society and a chartered scientist with the Science Council. He holds a Doctor of Psychology in Clinical Psychology from the Hull University Postgraduate Medical Institute and an MPhil (Cognitive Psychology) and a BA in Psychology/Social Anthropology from Goldsmiths University of London.
"We are delighted with these four new appointments, which highlight very clearly this university's broadening academic ambitions," said the Rev Canon Professor Peter Neil, Vice Chancellor of Bishop Grosseteste University.
"It is a measure of our excellent and growing reputation that we are able to attract colleagues of this calibre to work with us at BGU as we expand our academic portfolio."